Hey mums and dads! We are smack dab in the middle of the June school holidays, and you might be running out of plans. Not to worry, Qashier has got you covered.
As always, our solution is simple. Just gather the kids, young and old, and take a family trip to GastroBeats for some good food and wholesome fun.

GastroBeats 2022 kicked off on the 3rd of June, running till 26 June, daily from 4pm to 1030pm daily at the Bayfront Event Space. The lifestyle event hosts an exciting line-up of culinary arts and entertainment talents.
Shop a bunch, play the carnival games, quench your thirst, dance to the beats, and of course eat your fill.
So whether you are there to try the local street food, or want to dine on complex cuisine at the Culinary Masters section, you'll find something even for the fussiest member of the family.
Did we also mention the entire event is cashless, so just bring your choice of contactless payment.
Here are three things your family should do at GastroBeats:
1. Food, food and more food!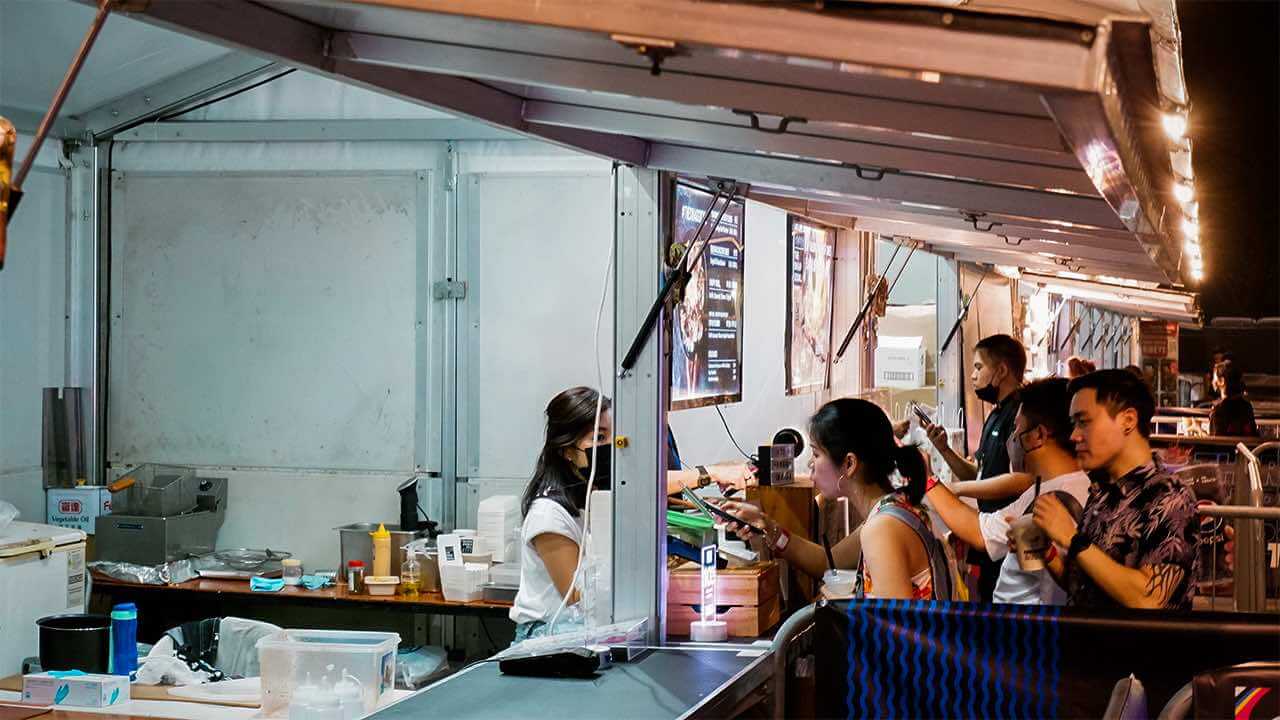 You better bring an appetite if you're going to GastroBeats, because you will experience that familiar 'pasar-malam' feeling of sampling a variety of street food from different stalls. And with more than 20 food stalls, you're definitely going to want to pace yourself.
Singapore home-based food businesses take centre stage, with popular choices like You Tiao Man, Kueh Ho Jiak, and Haig Road Putu Piring amongst the selection.
Look out for specially prepared dishes from the Street Food vendors for the fair. For instance, You Tiao Man will be selling meal kits, collaborating with Celebrity Chef Alvin Leong and local business Homecook'd. The meal kits are new recipes such as Kopi-C Angus Beef Rice Bowl w/ You Tiao Chips, and You Tiao Sliders w/ Pulled Chicken Rendang!
Other F&B Vendors include Ah Lim Nasi Lemak, Big Boy Franks, Craft'B, Nasi Lemak Ayam Taliwang, Praffles, Sibei Lok, The Vegetarian Butcher, Tigafolks & Co, Ugly Food, Selva Foods, An Acai Affair.
Perhaps one day is not enough to try everything. 
If you prefer a sit-down meal, with courses, you might want to head for the Culinary Masters section – definitely a highlight of GastroBeats 2022. Guests to the Culinary Masters area will be brought on an out-of-the-world gastronomical journey by acclaimed celebrity chef Sarah Todd, of Masterchef Australia fame, in collaboration with the show's judge George Calombaris, along with Masterchef Singapore S1 runner-up Genevieve Lee, and season 2 winner Derek Cheong. Each dish is specially crafted, and the entire menu costs approximately $70-$80. Thanks to the Qashier partnership with GastroBeats, all you need to do to order is scan a QR code, tap and pay
Being a cashless event, you won't have to be fussing about with cash, while trying to keep an eye on your active kiddos amongst the crowd. Instead, you just need your cards or your smartphone with mobile payments activated, just tap and you're done.
2. Jumptopia – Bouncy castle fun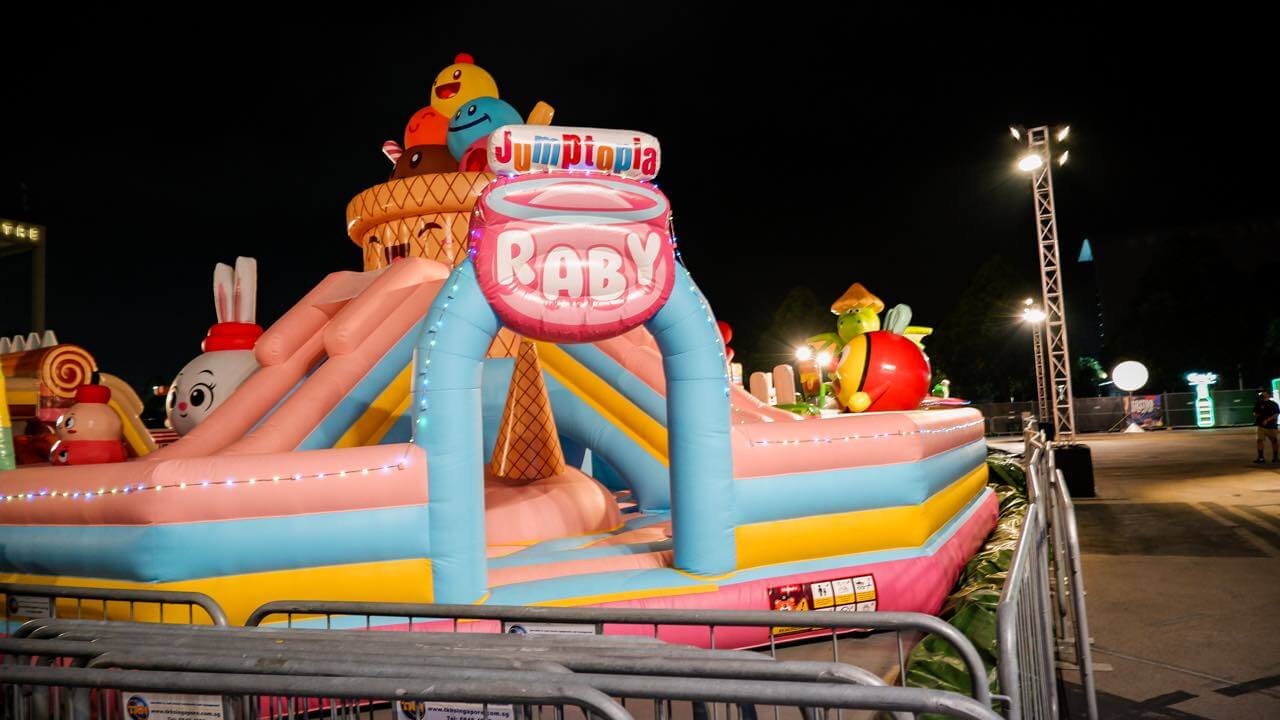 Just a glance at the brightly coloured, inflated bouncy castles, and your children's eyes will light up. Try and bask in the appreciation for just a split second, because they will be rushing to play a Michelin inspector.
Following in the spirit of GastroBeats, Jumptopia by Kiztopia Friends has inflated eight food-themed bouncy castles at GastroBeats where your child can pretend to be a Michelin inspector, as they go around experiencing and "rating" Kiztopia Friends' eateries!
Admire the life-sized doughnuts, croissants and macaroons at Bell's Patisserie, or dip into Honey's Boba Tea Place in a ball pit that resembles bubble tea toppings. 
Next, jump onto Mark's Tacos Truck for some Mexican delights! Then, for the adventurous child, and child at heart, slide down the massive slides at Tiger's Burger Joint, or leap into Eli's Noodle Bowl! Finally, visit Happy's Sushi Bar for some green tea and squishy mochi, and indulge in all things sweet at Raby's Ice Cream Universe and Drago's Fruit Market! Tickets are $23 per pax for weekdays, and $26 for weekends (inclusive of admission to GastroBeats). All ages are allowed, so perhaps Mum and Dad might not want to tell the kids, so they can take a much needed rest. 
3. Graffiti art walls and other fun things to do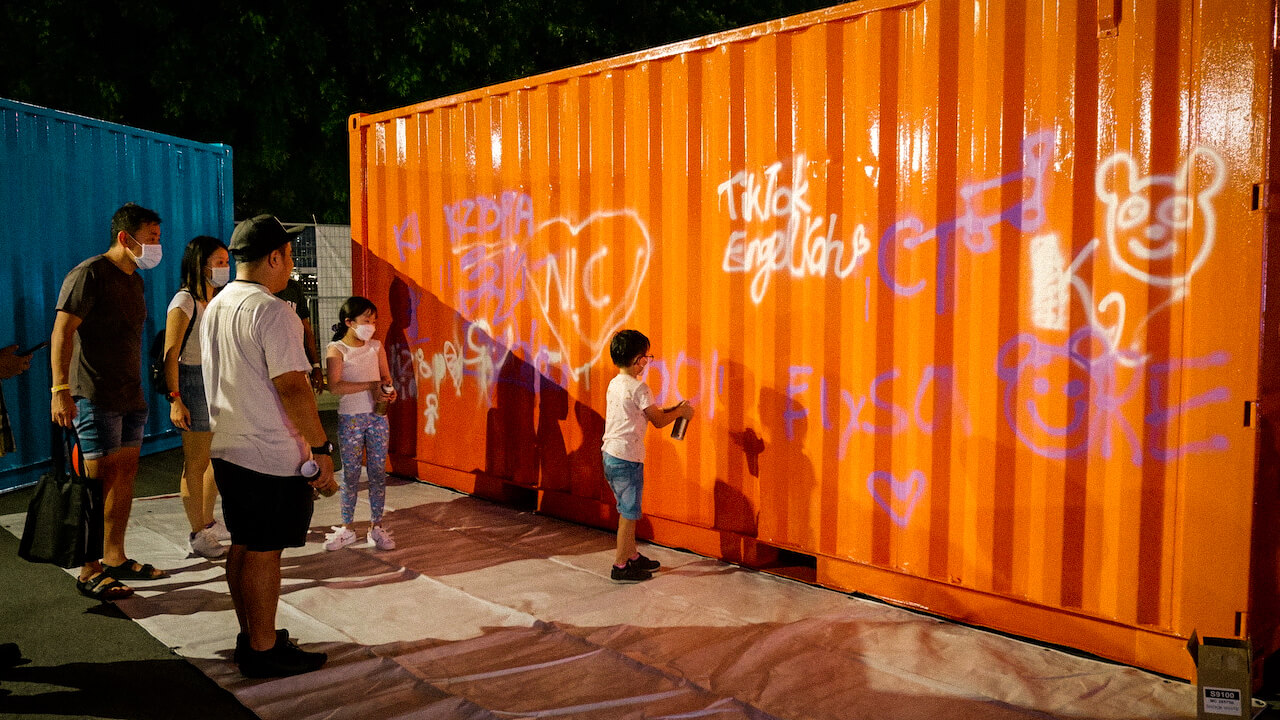 If your child has an inner Picasso, or in this case, is set to be the next Banksy, then it's time to unleash them onto the canvas they have been looking for in strict Singapore.
Let your children experience the freedom of spray paint on walls. It's a moment for them to have fun without you worrying about cleaning up. Nurturing them to express their true abilities are graffiti artists who will be there to guide them with the spray cans. 
Should you happen to be there on Saturday, don't forget to stay and watch the epic showdown between Singapore's most prominent street artists.
Additionally, there are claw machines and virtual reality tag games that the entire family can take part in. Not to mention, the live music acts performing at the event stage, and the brilliant light displays all-round, GastroBeats is pretty much the perfect event for the entire family.
Fuss-free family fun, why not?
The cashless event is also one of Singapore's first large-scale entertainment carnivals since Covid-19 measures have loosened up. So if you've run out of things to do with the children, we recommend you head to GastroBeats for an exciting experience. 
Gastrobeats will be open daily from 4 pm – 10.30 pm from 3-26 June 2022. Admission tickets are from $9 online. This event is cashless, so all you need is your payWave credit or debit card, or e-wallet on your smartphone and smartwatch.
Qashier is proud to be the official POS for GastroBeats 2022, powering the entire event with cashless payments. Join the community of happy Qashier users and let our smart POS system take care of the nitty-gritty details for your business. Meanwhile, you focus on making your customers happy and growing the business.
At Qashier, we deliver smart POS solutions that support your online or offline business.
Qashier offers multiple digital solutions, including QR code table ordering, table management (F&B), employee management, customer relationship management (loyalty programs), inventory management, data analytics, and cashless payments, in an all-in-one device.
Additionally, you'll be able to set up within 10 minutes without needing technical expertise seamlessly. It boasts a user-friendly interface that is simple for anyone to learn and use. If you require assistance, you'll find 7-days-a-week responsive technical support from the team.
One Qashier POS solution comes with integrated payment processing. With just one terminal, you'll be able to accept an array of payment types, from major credit cards, e-wallets and EFTPOS. Speak to us to see how Qashier Smart POS can meet your business needs. Schedule a meeting with us here, or reach out via email [email protected].