One of the standout highlights of GastroBeats 2022 is Culinary Masters. Guests to the Culinary Masters area will be brought on an out-of-the-world gastronomical journey by acclaimed celebrity chef Sarah Todd, of Masterchef Australia fame, in collaboration with the show's judge George Calombaris, along with Masterchef Singapore S1 runner-up Genevieve Lee, and season 2 winner Derek Cheong.

Do note that GastroBeats is an entirely cashless event, meaning you don't have to fuss about getting the correct change when you're paying. All you need is a card, or smartphone with mobile payments activated, and you're good to go.
At the media preview, we had a taste of some of the dishes you'll be able to sink your teeth into: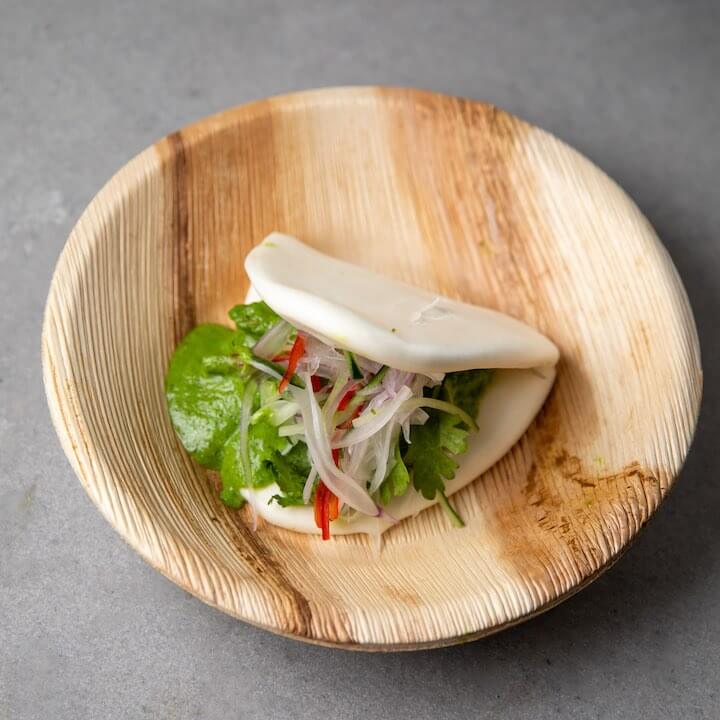 The Hariyali "Chickened Out" Tikka Bao is an interesting take on the Chinese dish Kong Bak Pau. Traditionally, thick chunks of juicy braised pork are sandwiched between thin white slabs of bread. But Hariyali translates to "greenery" in Hindi, which explains the refreshing green you see in between the steamed lotus leaf bun.
Bite into the bun and you are in for a surprise. The meat chunks taste like meat but it's actually made with vegan 'chicken' chunks marinated in coriander masala and mint. The dish comes with 3 pieces and goes for $24.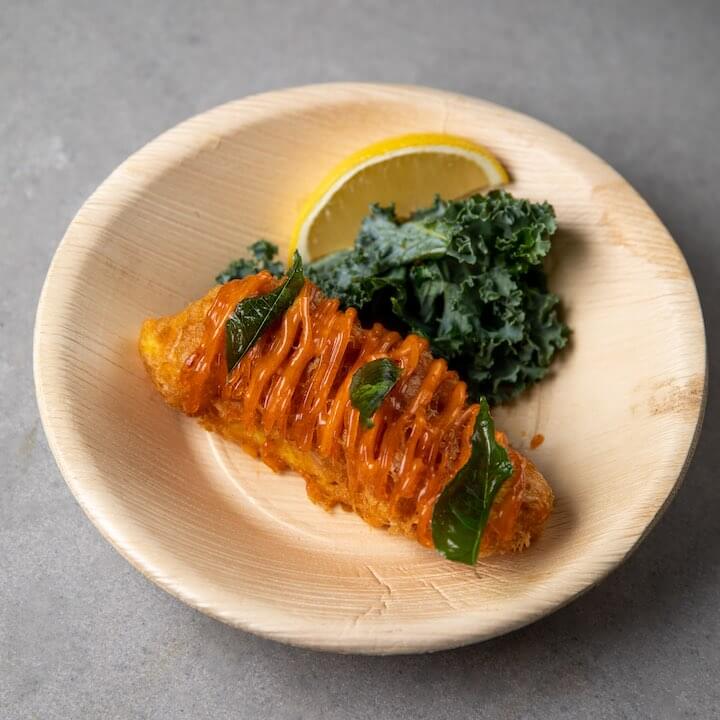 There is also the New Delhi Fish and Chips ($26), spiced espuma-battered Kuhlbarra barramundi drizzled with curry aioli. Each crispy bite slices away cleanly, paired with locally-grown kale chips as a savoury side.
Both dishes are a fun twist on the original, and perfect for those who like the taste of spice, without the massive kick.
Real foodies know that meals are only complete when topped off with dessert. We tried the Karamel Sutra Core ice cream with passion fruit espuma and peanut cookies. The tangy passion fruit flavours of the sorbet compliments the sweetness of the ice cream, further enhancing flavours as you alternate between sweet and sour taste profiles.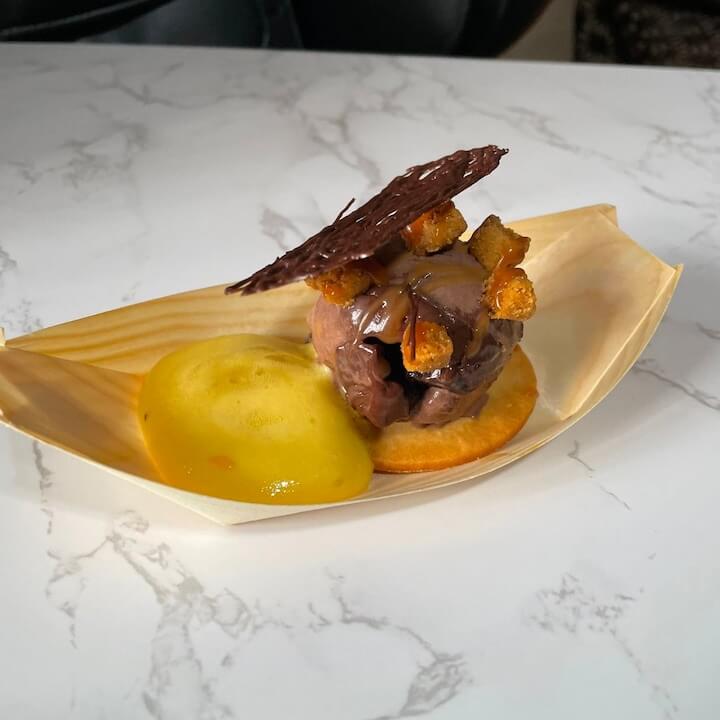 Each dish is sold a la carte, with sets available at $30 if you want to pair a main with a dessert. And if you decide to try all seven dishes, be prepared to spend around $120.
You are welcome to pair your food with bespoke cocktails created by Singapore's top mixologist, Peter Chua. Each week, the chefs will also be showcasing a highlight dish. Find out more at the official GastroBeats website.
Culinary Masters go cashless at GastroBeats 2022
Qashier has partnered with Gastrobeats to offer QR code ordering and payment. This cashless solution means you don't have to worry about bringing enough cash to the event. Just bring your appetite and your smartphone, and get ready for a night of wining-and-dining.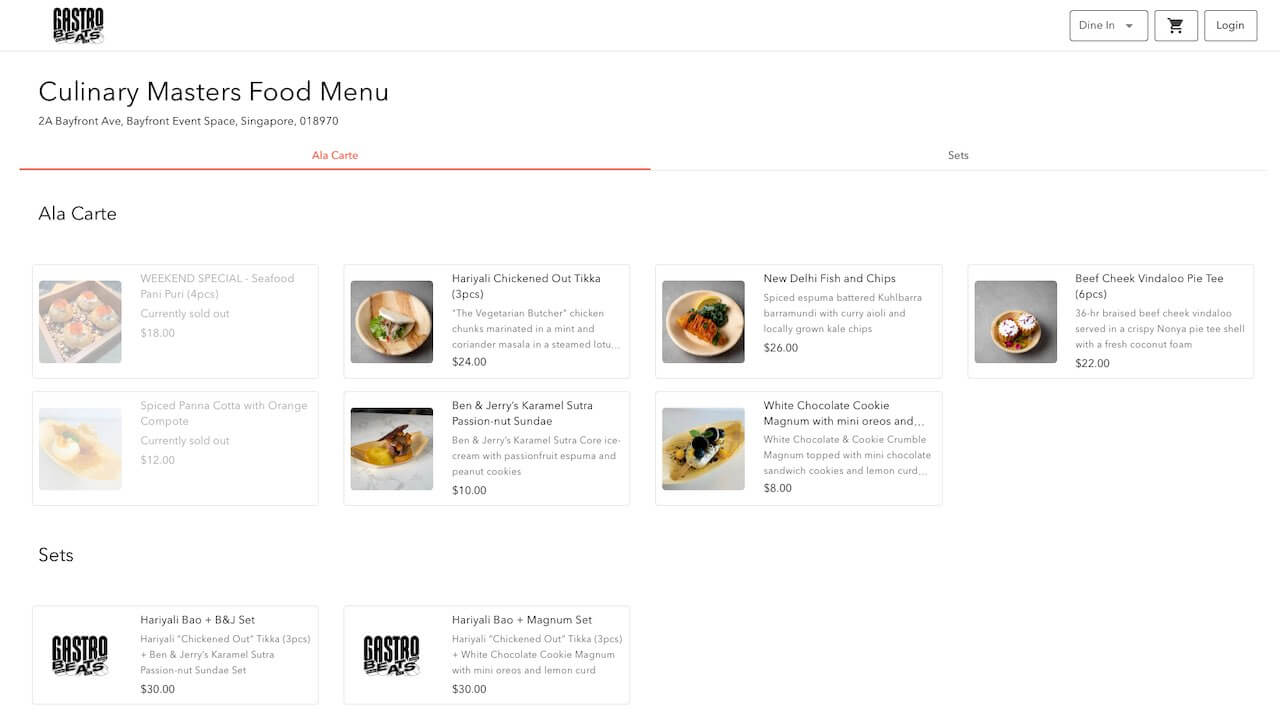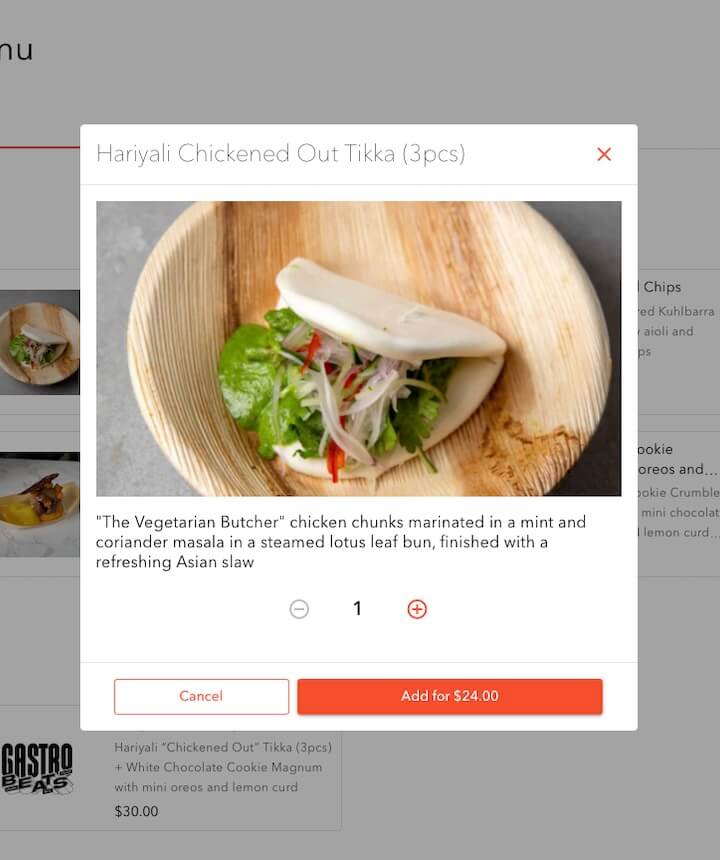 When you're seated within the Culinary Masters section, just scan the QR code on your table, and you'll be able to view the entire menu right on your mobile device.

Click the items to see more, and add to your cart if you like. When you're ready to order, proceed to the checkout, view your order summary, then proceed to choose a preferred payment, and pay.
It's so easy. The only difficult part is the wait for your the good food to arrive. Don't worry, it didn't take too long in our experience.
What else to expect at Gastrobeats?
Apart from Culinary Masters, there are also more than 20 local food vendors offering Singapore street food. Be prepared to shop, eat, and keep entertained by the various festival activities. If you're game for a bounce, head to the giant food-themed bouncy castles, or dance to the beats at the performing arts stage.
GastroBeats is said to be the largest event in Singapore since the ease of pandemic restrictions in the island state, and hosts an exciting line-up of culinary arts, music talent, and retail vendors. The lifestyle event will operate from 4 pm – 10.30 pm daily from 3-26 June 2022 at the Bayfront Event Space, promising a month of entertainment and culinary indulgence for the whole family.
GastroBeats. Admission tickets go from $9 online. Leave your wallet at home, because it's a cashless event!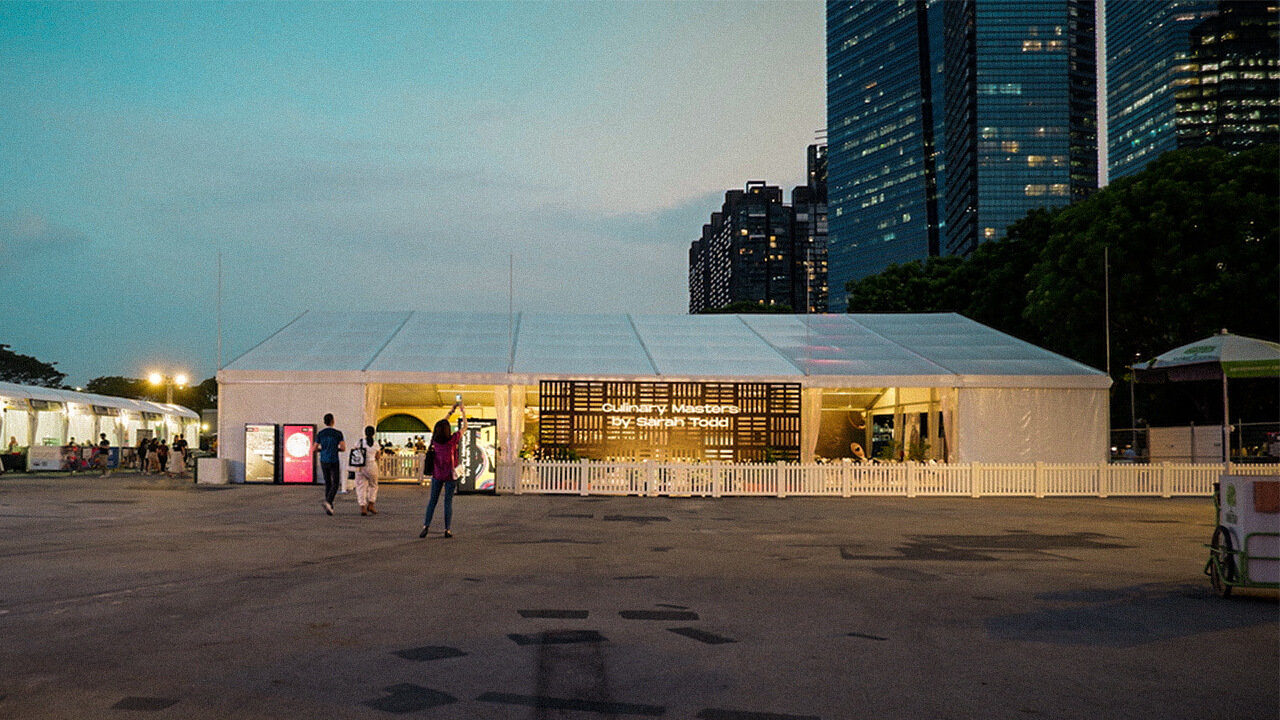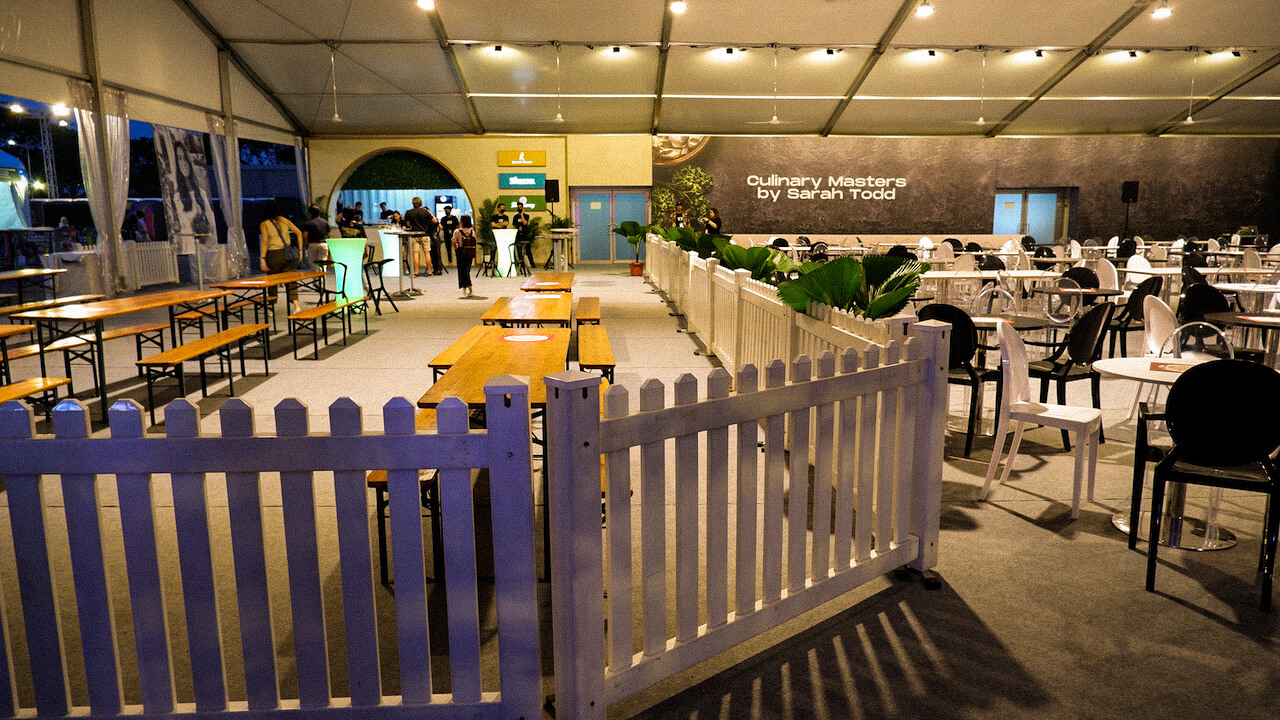 Standing alongside DBS, and Visa, Qashier is proud to be an official sponsor of GastroBeats 2022. As the official point-of-sale, Qashier is powering the entire event with cashless payments. Join the community of happy Qashier users and let our smart POS system take care of the nitty-gritty details for your business, while you focus on making your customers happy, and growing the business.
At Qashier, we want to deliver smart POS solutions that support your business, whether online or offline.
Qashier offers multiple digital solutions, including QR code table ordering, table management (F&B), employee management, customer relationship management (loyalty programs), inventory management, data analytics, and cashless payments, in an all-in-one device.
Additionally, you'll be able to seamlessly set up within 10 minutes, without any need for technical expertise. It boasts a user-friendly interface that is simple for anyone to learn and use. If you require assistance, you'll find 7-days-a-week responsive technical support from the team.
One Qashier POS solution comes with integrated payment processing. With just one terminal, you'll be able to accept an array of payment types, from major credit cards, e-wallets and EFTPOS. Speak to us to see how Qashier Smart POS can meet your business needs. Schedule a meeting with us here, or reach out via email [email protected].