Southeast Asia is poised to put the pandemic in its rearview mirror, with crowds chomping at the bit to finally head out and paint the town red.
Behind the scenes, event organisers are hard at work wooing crowds back with large-scale events. However, there are definitely going to be teething issues during these initial phases.
A number of reasons could derail a well planned event – staff may be too inexperienced to handle the throngs of people, not to mention diseases which may spread like wildfire.
In Singapore, GastroBeats 2022, the largest food and entertainment event since restrictions were lifted, is satisfying that need for a shared live experience. To mitigate the above mentioned issues GastroBeats has partnered up with Qashier's cashless payment solutions.
Let's set the scene.

The challenges of cash
Covid brought with it a cautiousness of handling physical cash – notorious germ-spreaders. The result saw cash fall out of favour quickly as news outlets harped on about frequent handwashing, and reduced touching at the start of the epidemic.
But even before Covid-19 hastened the adoption of digitalisation, the preference for cashless payments was already ramping up. A whole digital-savvy generation seamlessly took on the cashless lifestyle accessing e-wallets through their smartphones and smartwatches.
Statistics show that global non-cash transactions surged nearly 14% from 2018 to 2019 to reach 708.5 billion transactions. Asia-Pacific surpassed Europe and North America as the non-cash volume leader, at 243.6 billion in 2019.
But Covid exaggerated the challenges of using physical cash. Maintaining healthy staff numbers became an issue for businesses, as people fell sick or had to tend to the ill. Businesses pivoting online was one way to stay afloat, but once brick and mortar shops reopened, it was clear how important it was to have the right person operating your cash register.
These concerns multiply as an event organiser. You'll have to deal with many ticketing booths, and stallholders, handling different products. A shortage of staff, long queues, and frustrated event-goers raises the potential of discrepancies with the end-of-day sales.
Fortunately, there's a better way.
Eight reasons events should go cashless
The cashless future is now.
Many iconic festivals have gone cashless, allowing guests to use cards or e-wallets to pay for food, drinks and merchandise (and usually also to access the event). Gastrobeats 2022's partnership with Qashier is a prime example of how cashless payments can integrate with events. What's the reason for this fast-growing trend in live event management?
More crowd, more spending
Case studies have shown that when retail businesses accept digital payments, they have more customers, and also generate more revenue. Marketing research concludes that the less tangible the payment method, the more people spend. The psychological impact of not having to hand over cash encourages attendees to purchase more.
Consider the customer experience, and the ease of paying without waiting hours to queue. Digital payment methods are convenient, and transactions are faster, when you can accept all contactless payments with just a tap on a QashierPay terminal.
Quicker transactions, mean faster queues, which amounts to more sales made per hour. 
Reduces germ spread
This one may seem obvious now, but a virus outbreak is a possibility. To reduce the chances of that happening, allowing customers to go cashless means no money is exchanged through physical touch.
Whether scanning to pay through QR codes or tapping your card or mobile on a smart POS, customers and staff will feel safer when they don't have to handle cash.
Additionally, if staff handle cash and food, virus transmission can likely get out of control quickly. Finally, as an event organiser, you don't want to run the risk of a forced closure from the authorities, leading to a considerable loss of revenue.
It doesn't matter whether they use a credit or debit card, PayLah, PayNow, or even WeChat Pay. Since smart POS solutions such as QashierPay allow for all kinds of payments, customers will have many options.
Higher accountability

If your event has a ticketing system, implementing a QR code payment system will eliminate the endless wait times and lines often associated with large events or, at the very least, reduce them to a minimum. That way, you also can account for the number of attendees.
And once inside, the ease of sales tracking through smart pos terminal such as QashierXS can make accounting more accurate, and help streamline your sales auditing process. In addition, once the night is over, vendors do not have to spend time cashing out at the end of the night either. That means less chance of human error, increasing accuracy, and reducing time and resources to ensure that records tally at the end of the day.
Better security

Going cashless makes events more secure. Attendees can be less concerned about their wallets getting lost or stolen. Vendors needn't worry about theft from the cash register. This means the event's security team can stay lean, or be deployed to more important operations.
From the vendors' perspective, digital payments mean they do not require employees to withdraw huge amounts of cash at the bank to prepare change for their customers. In turn, eliminating the painful experience of customers who only have notes in high denominations, and stallholders without change to return the difference.
For customers, contactless payments have built-in security features like checking how much was paid, limits on how much can be paid out, or smartphones designed to disallow repeated transactions. In addition, any transaction error can be resolved quickly.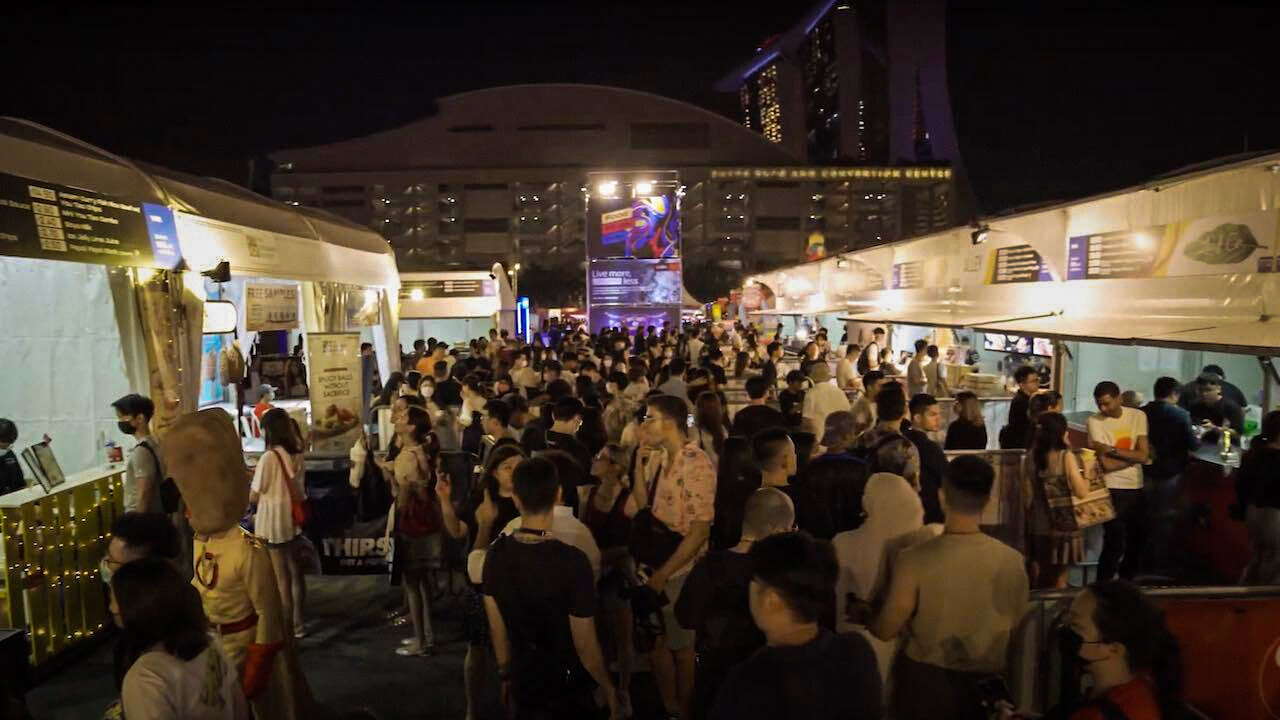 More opportunities to make customers happy
Shorter wait times, not having to worry about their wallets, and fewer chances to fall sick – are already some reasons why customers may feel happier attending cashless events. And the decline of cash usage in some countries reveal that customers already show a strong preference to go cashless.
What about the merchants? One obvious benefit is that their staff can now focus on engaging customers while waiting for the payment to seamlessly go through. But if your merchant has a customer loyalty program, smart pos solutions like the QashierXS terminal incentivise customers to enter their details in exchange for loyalty points. Just look at the example of organic skincare business Fawn Labs at Gastrobeats. 
Increases revenue

Organising mass events often means running on preciously tight margins. Going cashless can create new revenue options to help your bottom line, and ensure you're left with enough funds to run the next event. These might include activation fees for a smart POS system, or a percentage of purchase value charged from vendors.
Besides, digital payments allow merchants to offer "buy online, pickup in-store" (BOPIS) options. If the store has an ecommerce platform lik QashierEats, customers can shop online, and come to the event later to pick their items up. Additionally, customers who are already at the event, can beat the queues and order their food ahead of time and pick it up when they can.
What's more, Qashier's Official Grabfood Integration allows the store to receive the order at its event kitchen, and deliver it directly to customers who are not at the event.
Since smart POS solutions like QashierPay allow Buy Now Pay Later (BNPL) integration with service providers such as Atome, customers will be more receptive to purchase big ticket items at the event.
All this gives merchants more revenue options, while maximising time of event-goers. 
Transparency keeps vendors happy
Contactless payment technology can significantly cut down the headcount needed to run a large-scale event. From validating tickets to operating the stall, a QR code or payment terminal can do in seconds, what a person might take a minute or more to accomplish.
In addition to being easy to use, cashless payment systems have another significant advantage in that they are entirely digitally automated. As a result, every transaction is completely transparent.
If your staff work for commissions, Qashier solutions keeps track of which sale was made by a respective staff member. Furthermore, when it comes to reconciliation and allocating the profits at the end of the day, the system does the work automatically – making the process incredibly easy compared to dealing with tokens or cash.
Moreover, real-time data insights can optimise every area of your event's operations, not just after the event, but during as well. For example, every vendor transaction is tracked in a single cloud-based system, simultaneously keeping track of your inventory and other crucial data points. This allows vendors, and event organisers to solve bottlenecks and identify opportunities.
More opportunities for marketing 
Ultimately, if you want to stand out from the crowd, you have to bring the crowds in for the event. As an event organiser, the convenience and efficiency of an entirely cashless event, can really increase the level of press coverage, social media exposure, and even word-of-mouth promotion.
For instance, Culinary Masters at Gastrobeats features QR code ordering and payment at the event. It's an excellent way to get more people to experiment with food without worrying about running to the atm to draw cash.
As a vendor, a strategic way to build customer relations is to customise your receipts with a social media QR code. This QR code could redirect your users to a social media platform of your choice, or even a web page that has links to all your channels, and digital resources.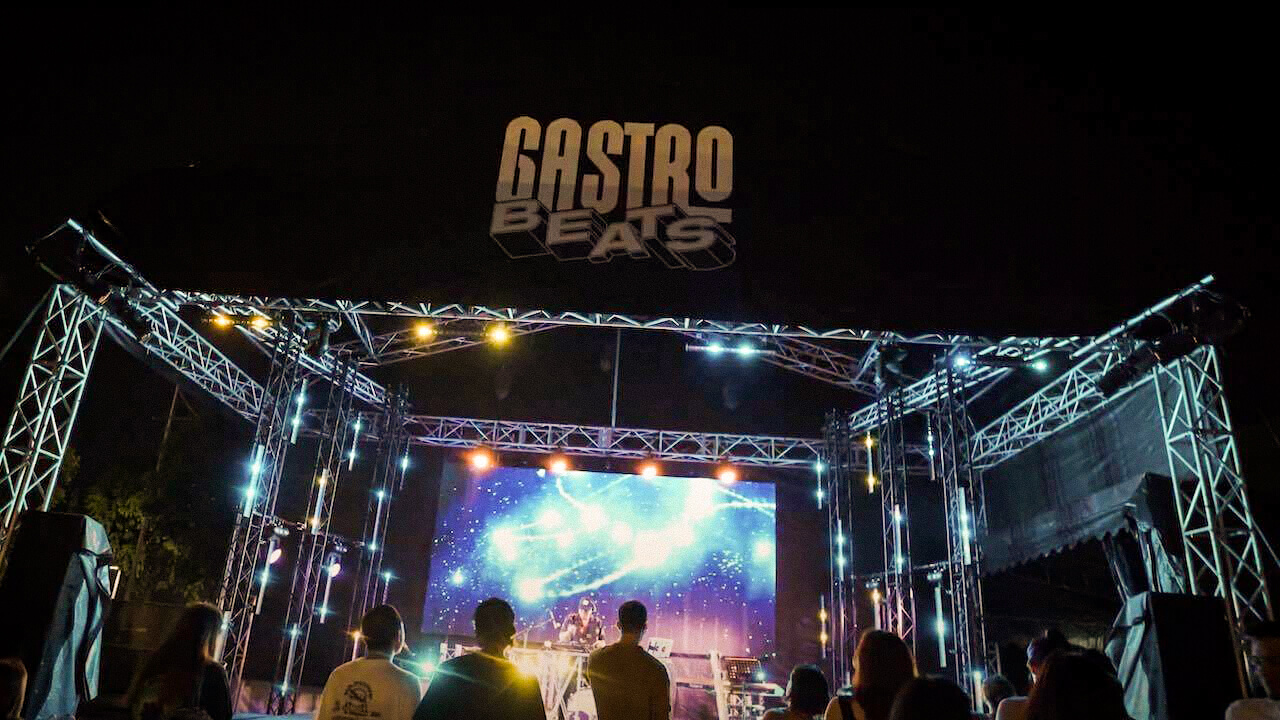 Now you know the benefits, what's next? 
As an event organiser, you need to research and look for a reliable partner who can provide your merchants with an all-in-one smart POS solution.
Whether your event is hosting a concert or promoting specific industries, your chosen service provider must have the experience, and necessary solutions to run the whole show.
Standing alongside DBS, and Visa, Qashier is proud to be an official sponsor of GastroBeats 2022. As the official point-of-sale, Qashier is powering the entire event with cashless payments. So join the community of happy Qashier users and let our smart POS system take care of the nitty-gritty details for your business while you focus on making your customers happy and growing the business.
At Qashier, we want to deliver smart POS solutions that support your business, whether online or offline.
Qashier offers multiple digital solutions, including QR code table ordering, table management (F&B), employee management, customer relationship management (loyalty programs), inventory management, data analytics, and cashless payments, in an all-in-one device.
Additionally, you'll be able to seamlessly set up within 10 minutes without any need for technical expertise. It boasts a user-friendly interface that is simple for anyone to learn and use. If you require assistance, you'll find 7-days-a-week responsive technical support from the team.
One Qashier POS solution comes with integrated payment processing. With just one terminal, you'll be able to accept an array of payment types, from major credit cards, e-wallets and EFTPOS. Speak to us to see how Qashier Smart POS can meet your business needs. Schedule a meeting with us here, or reach out via email [email protected].