Craving delicious Thai tom yum or snacks but unable to fly to Thailand? Thankfully, the famous Chatuchak Night Market from Thailand has made its way to Singapore. From 7 Feb to 2 April, from 4 pm – 10 pm, you can find some of the best Thai food vendors over at the South carpark of The GrandStand (Turf City).
Our previous article offered an overview of the event. In this article, we dive deeper to make sure you, the visitor, has the best experience.
Get there
For starters, if you're driving to Turf City, there's plenty of carpark space – over 3,800 lots, stretching over two floors, sheltered and open-air. However, plan your visits, if you're going at dinner time, be prepared to wait a long time just to get into Turf City!
If you aren't driving, there is a designated shuttle bus from Sixth Avenue MRT station on the Downtown Line. It takes you from the MRT station to Chatuchak Night Market. There are also several public buses from Sixth Avenue MRT which you can take, but they stop at the main road, so expect a 10-minute walk to Turf City.
In our opinion, the bus is a much more convenient way of travelling, avoiding the traffic, and saving you some money, which you can use for more food! Just bring an umbrella and appropriate footwear in case of rain.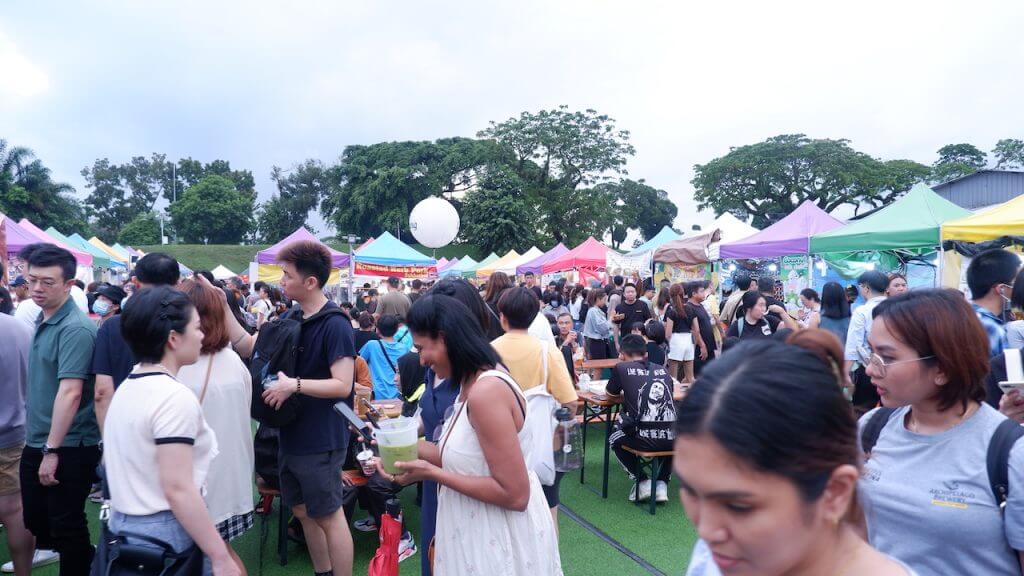 Get seats
Once you've arrived at the market, it's time to 'chope' (self-reserve in Singlish) seats! There actually isn't much 'chope-ing' to do, though. Most people opted to chow down while on their feet.
Get there early, or be lucky, and you'll find plenty of empty seats, or just share a communal bench. There are about 200 benches, divided into four different zones. The space itself is also huge, taking up over 25,000 square feet of space.
Get orientated
The participating vendors are scheduled to rotate weekly – In total, there are 80 vendors, of which 60 are from Thailand and its different provinces. 30 of them are food stalls and the rest are retail. There will also be an additional 50 food stalls run by local Singaporean vendors selling Thai fare.
While Chatuchak Night Market Singapore is not officially linked to Bangkok's legendary Chatuchak Weekend Market, 20 of the Thai vendors who operate there are present. So you might be able to spot your favourites (such as Thai milk tea!) amongst the various vendors.
When it comes to queuing and paying, the organisers have opted to go for cashless as much as possible. That means you'll see mostly card payments, with some vendors using QR code payments, alongside physical cash. So come prepared.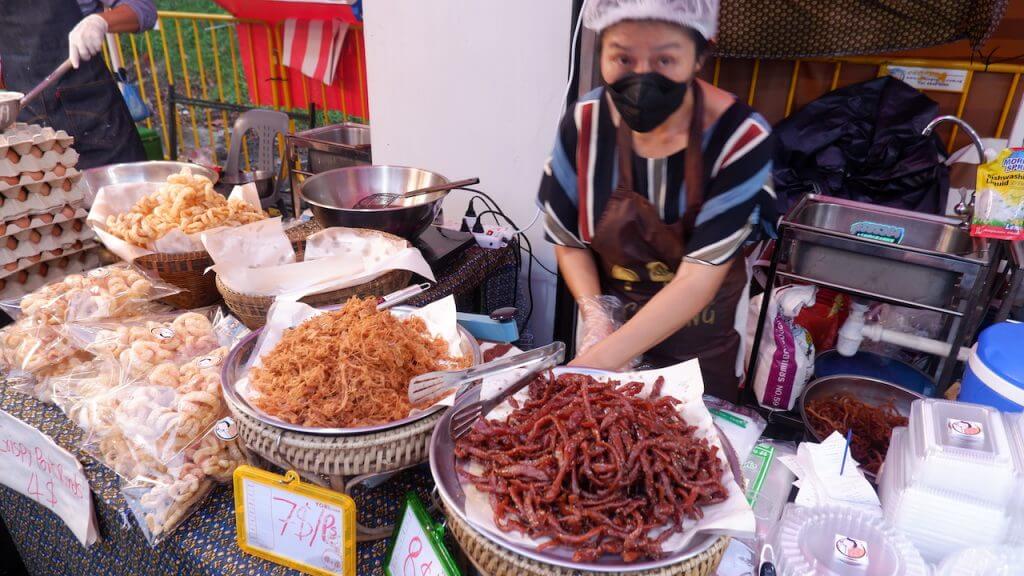 Get food
For food, the process is easy. You just need to order at the colourful booth marked 'Cashier'. The shop staff will provide you with a receipt. Then you exchange the receipt for your order. We spotted staff very efficiently getting people to pay first, and directing them to the stalls later. Because it's a cashless payment, all you have to do is to tap your mobile phone or credit/debit card. You could essentially order multiple items from multiple stores, pay at one location and pick them all up later.
While there were queues for popular stalls, everything still ran relatively smoothly. We spotted young children with their families and elderly grandparents. So even though the aisles were a squeeze, the cashless payments made moving through the aisle a breeze. It also meant most people got their food quite easily without fuss.
Although there were reports that the market was flooded on its opening day, the organiser has set up waterproof plastic screens, grass floors and floorboards for the wetter areas of the ground. Tents are also set up to protect the stalls from getting soaked. Still, the event is largely an open-air one, so if you do head down, it's best to bring an umbrella or wear a raincoat.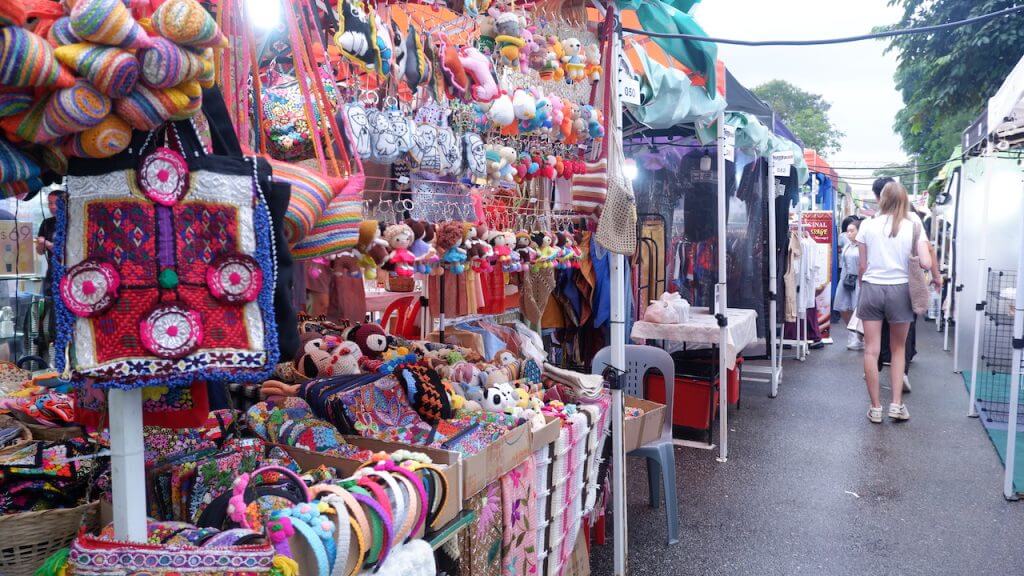 Get shopping
Over at the retail section, we saw a lot of colourful ethnic Thai bags and clothes! There was also a massage stall that had netizens raving, but it was unfortunately closed on Thursday when we got there.
There was even a large claw machine station, which will entertain the young and the young at heart.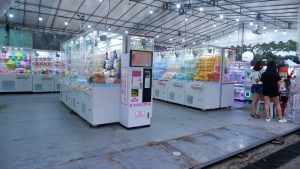 Get ready
If you are planning to head to Chatuchak Market, we recommend that you head there early, even on weekdays. Seats fill up fast, and it can get really crowded around dinner time. Otherwise, you don't have to worry about bringing too little cash, since the event is mostly cashless. Just bring your mobile phones with your e-wallets installed or a credit/debit card. PayWave, PayLah, PayNow, and even other modes of payment like GrabPay. Most importantly, bring an umbrella, or raincoat, stay dry, and don't forget to have fun!
More about Qashier
Qashier offers multiple digital solutions, including QR code table ordering, table management (F&B), employee management, customer relationship management (loyalty programs), inventory management, data analytics, and cashless payments, in an all-in-one device.
Qashier promises a seamless setup without any need for technical expertise. It boasts a user-friendly interface that is simple for anyone to learn and use. In addition, you'll find 7 days-a-week responsive technical support from the local team if you require assistance.
Try the Qashier app for free on your own Android device! Alternatively, you can speak to us to see how Qashier can meet your business needs. Schedule a meeting with us here, call us at (+65) 3165 0155, WhatsApp (+65) 8887 7687, or email [email protected]/sg.