If you prefer cashless payments, PayNow is one of the best ways to pay in Singapore. Is this statement true? If you agreed, you're definitely on the right track.
Statistics show that PayNow transactions in the island state of Singapore alone have grown steadily since 2018, with total volume in 2020 peaking at about 125 million.
So while PayNow isn't the only e-payment option available, it's quickly increasing in popularity. So naturally, as a business, you'll want to adopt the most prevalent payment method.
But your goal shouldn't be to jump on bandwagons, but the objective is to enhance the ease and convenience of your payment solutions so your customers can have an easier way to pay.
Does PayNow tick those boxes? Let's find out.
How does PayNow work?
PayNow is a fund transfer service linking customers to banks and financial institutions such as DBS bank and GrabPay. With PayNow, customers can quickly transfer funds using their mobile phone numbers – There's no need to search for the bank provider and account number.
This reduces the number of errors from keying in wrong account numbers. In addition, it minimises customers' stress when looking for your company's bank account number. Unlike a traditional fund transfer, senders can see the recipient's name attached to the account before confirming the transfer. This confirmation assures the sender that money reaches the intended recipient.
There's also PayNow corporate, which allows businesses to link their Unique Entity Number (UEN) to their bank account. Again, customers can use the UEN instead of asking for a complicated bank account number.
Apart from the convenience of simply inputting a mobile phone or UEN number, the PayNow infrastructure lets customers scan a QR code to pay. Moreover, in Singapore the PayNow QR code is integrated with the Singapore Quick Response (SGQR) Code – making it one of the best ways to pay in Singapore since customers can use their mobile phone to scan a PayNow QR code directly from a smart pos terminal.
If the business has registered its UEN number with PayNow, the QR code directs customers automatically to pay the business account linked with the UEN.
For a thorough description of PayNow, you can look up the Association of Banks website, or your market's equivalent.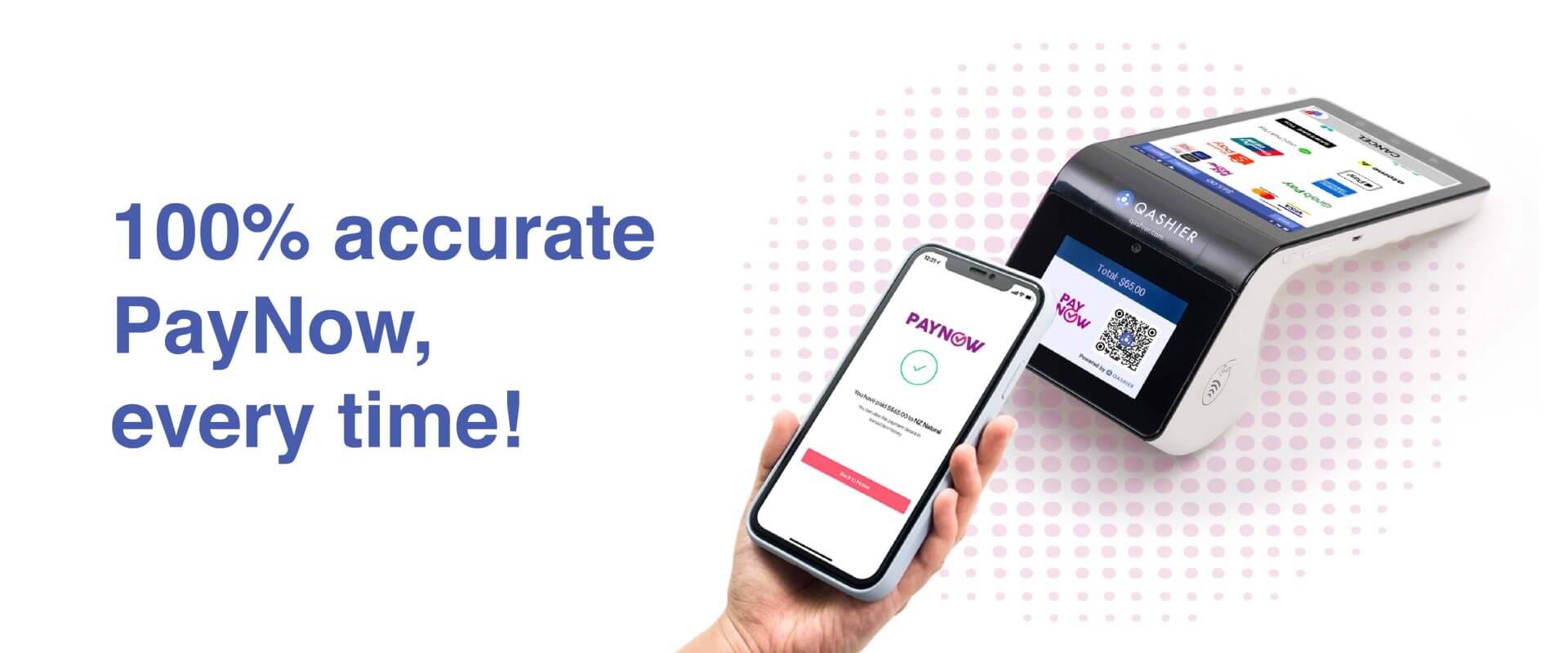 Key reasons for PayNow as your payment method:
Peace of mind
Since PayNow is an instantaneous transaction, you will not have to worry if the amount has gone to your bank account. The customer can also check on their end through their mobile phone if the payment has been transacted.
For small retailers, juggling many customers purchasing different services and products can be challenging to keep track of. So instead of hiring more staff, using a smart POS solution with PayNow integration will improve your operational workflow.
By scanning the PayNow QR code, your customer gets the right amount and pays quickly. You and your staff do not need to manually input the cost into a payment terminal, and again into your POS machine for bookkeeping. As a result, there's less wait time, and you can move on to the next customer.
When compared to cash payment, PayNow is one of the best ways for businesses to get paid, as it doesn't require them to collect and hold cash. This reduces the threat of crime, stealing, and other challenges when regularly handling large sums of money.
Fraud-free payments
The payment process of PayNow and its dynamic QR code seems straightforward enough. However, using traditional static QR codes may cause confusion.
Why so? Let's briefly understand the difference between the two – when customers scan a static QR code on the smart pos terminal, they will see the owner's bank account number. They themselves key in the amount of the product or service they are purchasing.
The customer would verbally confirm the amount, while the business owner or staff repeats it a few times to ensure they get it right.
When owners check their end-of-day sales, they might find that things don't add up – ultimately discovering that the customer had keyed in the wrong amount. At this point, there's almost no way to rectify the issue if they are one-off customers.
Besides, even if you do manage to speak to them, it may be a tightrope affair as you don't want to come across as accusatory, and hurt your brand equity, meanwhile the fact of the matter is that you are owed an amount for services rendered, and every dollar matters when you're growing your business.
Let's simplify this: A dynamic QR code is your solution. By scanning the QR code, the customer gets a fixed amount without the ability to edit or key in any number on their end – they just scan, and pay.
Fuss-free daily sales settlement. Zero impact on cash flow.
Speaking on end-of-day sales, with PayNow, businesses do not have to tally their sales transactions manually. Humans are prone to mistakes, especially if they are tired. Using cash can also lead to missing sales transactions.
PayNow eliminates that possibility since you just need to check your bank account statements at the end of the day. Experience fuss-free daily sales settlement, knowing that your PayNow receivables are always accurate.
Furthermore, there's zero impact on your business' cash flow. Payment is instant to your bank account, and you don't have to stress about waiting for future payments weekly.
Good news! If you're using Qashier solutions, or a Qashier Smart POS terminal, we have integrated PayNow as a payment solution.
Your business might already receive transactions via a static PayNow QR code – but why leave things to chance?
The Qashier X PayNow upgrade generates a dynamic PayNow QR code in real-time, reflecting the exact transaction amount. This means 100% accurate payments, each time, every time!
So tap on one of the best ways to pay in Singapore today.
Whatsapp us to find out more. And if you are still hesitating about switching to Qashier, let our clients do the talking for our product.
Time is money. To make it count, consider Qashier's multiple digital solutions in an all-in-one device for your startup.
Our smart POS solutions can handle different operational aspects, from QR code table ordering to table management (F&B), employee management, customer relationship management (loyalty programs), inventory management, data analytics, and cashless payments.
Qashier promises a seamless setup within 10 minutes, without any need for technical expertise. It boasts an user-friendly interface that is simple for anyone to learn and use. If you require assistance, you'll find 7-days-a-week responsive technical support from the local team.
Qashier is also affordable, with prices starting from as low as SGD1/day (in Singapore with a PSG grant), and this includes hardware, software, setup, training and 7-days-a-week local support.
Speak to us to see if Qashier's Smart POS can meet your business needs. Schedule a meeting with us here, call us at (+65) 3165 0155, WhatsApp (+65) 8882 8912, or email [email protected]/sg.