SMEs, listen up! Do you agree that the powerhouse of TikTok Live is a thriving hotspot for businesses like yours to gear up engagement and boost your slow physical sales?
TikTok as a platform has garnered a whopping 325 million monthly users. In Malaysia alone, almost 7 million users were recorded in 2022, and users will surge by 52% in 2026.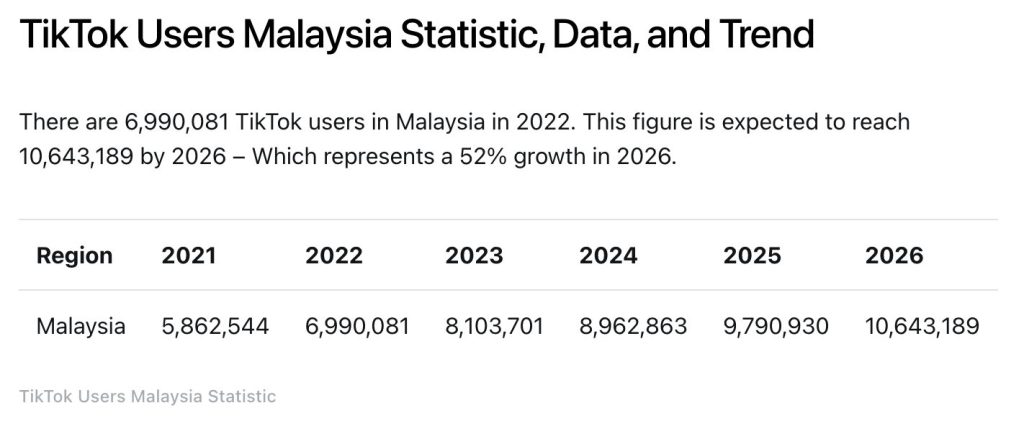 On top of that, 15 million businesses have been getting in on the action!  
2022 was a year when TikTok Shop gained the attention of businesses as they tried out the platform with much success. This includes renowned brands like Maybelline, Farm Fresh, and Skintific. Their results have shown impressive tractions from audiences, with consistent monthly growth in their merchandise sales.
Not to forget, TikTok entrepreneurs like Khairul Aming, who took his daily sambal sales from 3,000 to 7,000 bottles, all thanks to TikTok Shop. Malaysia local legend  Hygr's viral TikTok post overnight triggered hundreds, even thousands of orders daily. These set a transparency for success, heating business visibility and spicing up sales on this digital platform.
How attractive is TikTok Live?

TikTok Live has paved a significant game-changer in the world of social commerce. It offers a fulfilling choice if you aim to connect with sizable audiences in real-time and create a strong community around your business. The built-in features, including live chats, quick feedback, and Q&A sessions, are just what your business needs to hit the ground running!
Large and Active User Base
TikTok ranks as the fastest-growing social media platform, reaching 1 billion active users within five years. In contrast, Instagram achieved this milestone in approximately seven years. Remarkably, TikTok outpaces Facebook, which took eight years to reach the same level of success.
Additionally, the value of hopping onto the TikTok trend does not only rely on the account user count. How long do you think users spend time on this app? Get this – a total of 14.3 hours per month! Yes, this means you can almost endlessly sell more products on TikTok's live shopping feature, all while raising brand awareness.
Higher Sales Potential
Did you know 60% of TikTok users are Gen Z and Millennials? This market has massive potential, with a combined spending power of $360 billion worldwide. Meanwhile, a survey indicates that 40% of these individuals made purchases while watching a livestream. Such finding indicates the evolution of consumer shopping behaviour, which brings you to the next benefit:
Build Real-Time Connection
Millennials and Gen Z are being super-connected. They value genuine conversations over a hard sell, leading them to be more receptive to two-way interactions. Doing live streams allows you to build authenticity as compared to just publishing pre-recorded content. 
Demonstrate how your products work and point customers to the links to these products. This evokes confidence in your product quality and if these are what they're after, you'll earn their thumbs up and sale.
Easy to Achieve Viral Success
With 59% of social media users in Malaysia being part of the TikTok community, the platform has become a place where product videos and testimonials have the potential to become viral sensations, thanks to the users' enthusiasm for saving and sharing videos.
One of the most exciting features is the 'yellow bag' in TikTok Shop! This button feature lets your followers make quick purchases from their favourite merchants with a simple click. You could be one of those sought-after merchants on TikTok Live! Get set to create a 10 to 15-second promo video and you are on your way to winning those views, likes, shares, comments, and saves!
Here are some tried and true tips to increase your product demand and sell on TikTok live:
Start TikTok Live Stage at least 2-3 times weekly (for beginners) to supercharge sales. Increase to 4-5 times if time permits.

Amp up with exclusive discounts and limited-time promotions.

Tap into UGC (User Generated Content)

Use TikTok Ads and retargeting ads (optional for more advanced merchants).
Make the most of this opportunity with QashierPay Online 
QashierPay offers merchants like yourself more alternatives to receiving payments online apart from drawing your earnings on TikTok. Depending on your preference of communicating sales to customers, you can opt for these payment methods :
Pay By Link
When you're selling a trend-setting product on TikTok Livestream, use Pay By Link, which allows you to generate and share unique payment links with your audiences. It is a fast process for customers to lock in your products online. Experience the Magic of Pay By Link in Just 4 Easy Steps!
Input the transaction amount and expiration date for the links.

Share the unique payment link via email or any messaging application.

Customers make online payments with their preferred debit, credit card or

PayNow

 

Payment status is updated instantly.
The best part? You can generate unlimited links on QashierHQ, and it is ABSOLUTELY FREE! Moreover, the full payment will be back in your wallet within 24 hours after your livestream concludes. Cha-ching!
E-Invoice
With QashierPay E-invoice Payments, you can effortlessly create and send digital invoices. During TikTok live streaming, users and audiences actively access flexible payment options for their purchases, complete with instant e-invoices for quick reference. How about that for a seamless shopping experience?
Furthermore, you can monitor the growth in sales and bid farewell to chaos. What does that mean? Qashier's e-Invoice Payment system will standardise invoice statuses across all your interaction points. It offers a comprehensive view of your financial landscape after each sale, which is gold! Wave goodbye to any guesswork with e-invoice, and embrace hello to financial clarity!
Act now!
The time to act is now! Embrace TikTok Live, harness the power of QashierPay Online, and watch your business grow in the digital world. Seize this moment to earn the trust and devotion of your audience. Commence your TikTok Live journey immediately!
More about Qashier
If you're a small business looking for an innovative smart POS solution, contact us or visit our website to learn more about our cost-effective plans.
Qashier offers multiple digital solutions, including QR code table ordering, table management (F&B), employee management, customer relationship management (loyalty programs), inventory management, data analytics, and cashless payments, in an all-in-one device.
Qashier promises a seamless setup without any need for technical expertise. It boasts a user-friendly interface that is simple for anyone to learn and use. In addition, you'll find 7 days-a-week responsive technical support from the local team if you require assistance.
Try the Qashier app for free on your own Android device! With just one terminal, you'll be able to accept an array of payment types, from major credit cards, e-wallets and EFTPOS. Speak to us to see how Qashier Smart POS can meet your business needs. Schedule a meeting with us here, or reach out via email [email protected].