Singapore SMEs get 80% off
If you're a Singapore registered company with 30% or more local/PR shareholding, you could qualify for up to 80% off our Promo Kit through the Productivity Solution Grant (PSG) program.
To further help SMEs tide through COVID-19, Qashier is offering 0% Credit Card processing fee for the first 6 months* (only applicable to new signups in September).
Sign up now to enjoy further savings of $371*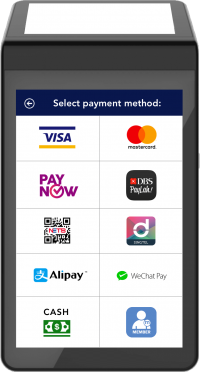 SGD1,808 SGD361.60 (80% grant)
Qashier Smart Terminal (worth $1,148)
Qashier POS Pro subscription (1-year)
Simple, flat rate payment processing
Remote setup & free delivery included
7-days-a-week local support + on-demand training videos
Cash drawer
Kitchen printers (USB/Wi-Fi)
Omnidirectional barcode scanner
Simply complete the form below to enjoy this offer now!
0% Credit Card processing fees are applicable for the first $14,000 or for the first 6 months, whichever comes earlier.
All credit card transactions have to be processed by Qashier and made through the Qashier Smart Terminal.
The 2-week approval for Productivity Solutions Grant is subjected to the submission of all correct documents.
Optional add-ons are subjected to availability.
For more information on the Productivity Solutions Grant, please visit Enterprise SG.
Promotion ends 30 September 2020.
Qashier reserves the rights to change these terms and conditions at any time without prior notice. In the event that any changes are made, the revised terms and conditions shall be updated on this page immediately. Please check the latest information posted herein to inform yourself of any changes.